I am addicted to HBO Original Series. My addiction began when I started watching Six Feet Under while on summer break from college. I've always had this healthy fascination with the macabre, so a show about a family that runs a funeral home was right up my alley. That show was fantastic; the writing was witty, the characters well developed and three dimensional, the acting was superb (I've been HUGE Michael C. Hall, Peter Krause & Frances Conroy fans ever since) and the plot lines were complex and engaging. I've come to realize that this awesomeness is par for HBO. They spend the time and money on their shows. They pour in love and dedication and the results are excellent. I love current shows like True Blood, Treme and Boardwalk Empire (and we're only 2 episodes in!). Sean and I recently finished watching the raw, brutal and amazing series, The Wire, which is further evidence that HBO is simply the best.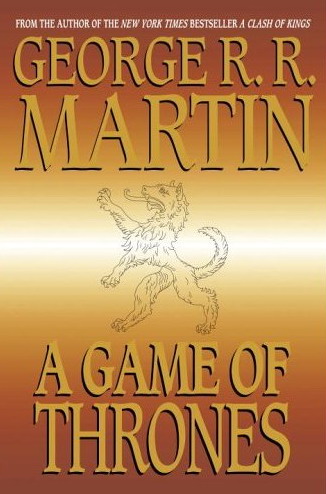 That is why, when it was announced that they would adapt George R.R. Martin's novel Game of Thrones (and hopefully the rest of the Song of Ice and Fire series) into an HBO Original Series, we were stoked. The books that make up "A Song of Ice and Fire" are some of the best fantasy novels I've ever read. The characters are well developed; the female characters are complex, not just ladies of the court that faint at the sight of blood. I began the series abhorring a character only to find in subsequent books that they're actually kind of likable and relatable. War is bloody and brutal, sex is not off the page, or sweet and wimpy, and there's magic, but it is really dark, subtle, unpredictable and rarely used. It's fantastic. Everyone that I have lent the book to has devoured it and begged for more. Anyone who has not had the pleasure of reading the novels should stop what they're doing
right now
and buy the soft-cover Game of Thrones for
$7.99
. I promise that you wont be disappointed.
These books are PERFECT source material for an HBO series. And Martin is heavily involved, so I have no doubt that the book-reading audience will be happy. The series premiers in 2011 and you can bet that Sean and I will be hosting a party for it. Winter is Coming, ladies and gentlemen, and it's going to be stellar!